The 14th China (Guangzhou) International High Quality Rice and Brand Grains Exhibition 2020
---


2020.12.6-8
China Import and Export Fair Complex
---
Exhibition Introduction
China (Guangzhou) International High Quality Rice and Brand Grains Exhibition (IRE China), is a significant rice trade show in China. IRE has been successfully held for thirteen years, attracting the most excellent overseas and domestic rice and grains manufacturers, importers and exporters, agents and distributors. It is a must-attend platform for overseas rice companies to enter the China market.
Why Exhibiting?
A large gathering of more than 1,500 brands and 45 countries, which will connect you easily with industrial counterparts
Telemarketing and email campaigns to 350,000 database such as agriculture products distributors, agents, traders and hotels to ensure you a sufficient amount of leads
One-to-one business matching with VIP buyers will help to get quality leads and close the deal efficiently
Cooperation with more than 300 professional media and over 100 mass media will help to spread the exhibition and your products widely in China
More than 40 conferences and special activities to keep you updated of the latest industry information, regulations and development trends in China
2019 Facts and Figures
| | | | |
| --- | --- | --- | --- |
| Exhibition Area | Exhibiting Countries | Exhibitors | Visitor Entries |
| 60,000 M2 | 45 | 1,500 | 100,000 |

Visitor Review

Visitors by Region
South China
71%
East China
10%
North China
5%
Central China
4%
Northeast China
1%
Northwest China
1%
Southwest China
1%
Overseas
5%
Hong Kong, Macao and Taiwan
2%
Title of Visitors
Agents/Distributors/Wholesalers
25%
Importers/Exporters
18%
Manufacturers
17%
Shops/Retailers
11%
Chain Supermarkets/Stores
7%
Restaurants/Hotels
6%
Others
6%
E-commerce
WeChat Business
6%
Government/Association/Group
3%
Pharmacy
2%
Renowned Brands
---

Key Buyers include...
---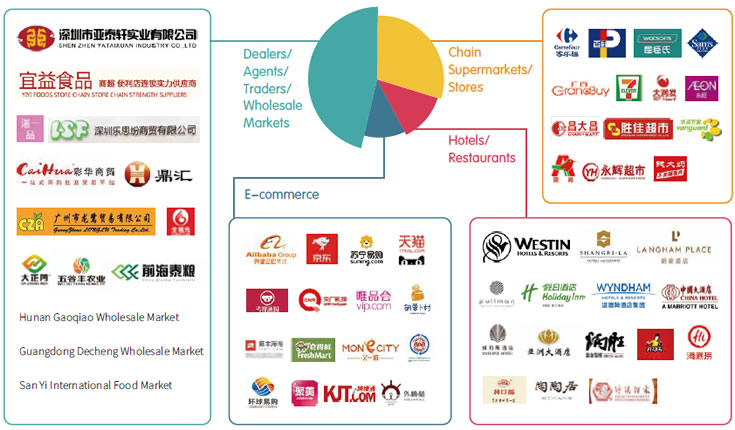 Conferences and Special Events
---

Food and Oil Awards Ceremony
Organized by Chinese Cereals and Oils Association, more than 100 authoritative experts and enterprise representatives from the rice and oil industry attended this ceremony. By honoring excellent brands, it aims to promote the healthy, safety and innovated development of the industry.
Chinese and Foreign High-Quality Fragrant Rice Competition
More than ten original ecological fragrant rice brands from Thailand, Vietnam, Heilongjiang, Jiangxi, Liaoning competed for four categories of "most fragrant rice", "most soft and glutinous rice", "most delicious rice" and "the best quality rice".
Exhibits Categories
---
Rice Product
Rice, seeds rice brand, secure rice, fortified rice, organicrice, green rice, pollution-free rice, ricefoods, instantrice, rice, riceprotein, rice sugar oil, dietaryfiber etc.
Cereals
Sorghum, millet, millet, buckwheat, oats, barley, triticale, mung beans, red beans, kidney beans, black beans, broad beans, chickpeas, especially corn, barley, sesame, flax, potatoes, organic grains.
Rice Made
Product
Riceflour, flour products, instant noodles, corn, corn deep processing products.
Rice Processing
Equipment
Hoister, prelnary cleaning machine, vibrating screen machine, removing stone machine, magnetic separator, rice huller, paddy machine, polishing machines.
Rice Restore
Packaging
Equipment
Storage equipment, packaging equipment, inspection equipment, rice processing equipment, security grain storage systems.
Contact Us
---
Guangzhou Yi Fan Exhibition Co., Ltd
Room 202, Yin Yan Building, No.25-27 Yan Ling Road, Tian He District, Guangzhou, China
Tel: +86-20-88521856
Fax: +86-20-88527871
Website:www.gzmyz.com
E-mail: Info@gzmyz.com