The 17th International Grain
and Oil Expo 2024
14-16 June 2024
China Import & Export
Fair Complex
Co-organizers

China Chamber of Commerce of I/E of Foodstuff, Native Produce and Animal By-products (CNFA)
China Information Industry Association Grain and Agriculture Branch
Wood Oil Branch of China forestry Industry Federation
China Coverage Area Certification Committee
International Olive Oil Council
International Association for Cereal Science and Technology (ICC)
Asian Rice Merchants and Specialists Association
Guangdong Province Grain Industry Association
Guangdong Institute of Food Science and Technology
COFCO ET (Xi`an) International Engineering Co., Ltd.
China Oils and Fats
National Association of Grain Sector of Guangxi Province
(The above are in no particular order)
Supporters

National Association of Grain Sector of Hubei Province
National Association of Grain Sector of Huaian City
Administration of Grain of Guangxi Zhuang Autonomous Region
Guangxi Fragrant Rice Industry Alliance
Anhui Oil-Tea Camellia Association
Hunan Oil-Tea Camellia Industry Association
Liaoning Provincial Association of Grain Sector
National Association of Grain Sector of Jilin Province
Bureau of Agriculture and Rural Affairs of Yongxiu County
The People's Government of Quanzhou County
Xiantao Rice Industry Association
(The above are in no particular order)
Organizer

Guangzhou Yi Fan Exhibition Co.,Ltd.
IGO China
"China (Guangzhou) International Grain Oil Industry Expo (IGO China) is composed of three thematic exhibitions, including China (Guangzhou) International Edible Oil and Olive Oil Expo (IOE China), China (Guangzhou) International High-Quality Rice and Brand Grains Exhibition (IRE China), and China (Guangzhou) International Grain and Oil Machinery and Packaging Equipment Exhibition (IGME China). It covers the entire grain and oil industry value chain and serves as an ideal platform for overseas enterprises and premium products to enter the Chinese market."
Why Exhibiting ?
Get together international and domestic leading companies and well-known brands to exhibit and show. The exhibition attracting distributors, end purchasers and professional service provider, getting fully support from domestic and overseas industry association and union, and to create a complete business service chain, to achieve efficient communication and cooperation among all ends of the industry.
Sharing related food professional buyers of IHE China, focus on invite distributors, agents, franchisees, Grain and oil wholesalers, Chain supermarkets and other high end channel groups to purchase on-site.
A three-day exciting business exchange forum customized for professional buyers in the industry, where industry leaders and experts will share hot topics, latest market information and trends in the grain and oil industry on-site, providing a good opportunity to learn, communicate, and connect with each other.
Exhibition Review 2023

Visitor Types
81% of professional buyers have
decision-making and advisory authority
Renowned Brands

Exhibitor Testimonials
This year is the 20th anniversary of our brand's listing, and we have brought a series of new and premium products, which have received a much higher level of welcome than expected. We have noticed that the foot traffic at the exhibition was very satisfactory, with a large number of high-quality buyers visiting our booth for business discussions. Some buyers even placed orders directly at the booth, providing great momentum for us to expand our presence in the healthy kitchen market. We would like to express our sincere gratitude to IGO China for creating a grand stage for brand promotion and showcase.

—— Jing Yuan, Public Relations Department, Standard Food (China) Co., Ltd.

We participate in the exhibition every year, and we consider IGO China to be a great platform for brand promotion, new product launches, and maintaining customer relationships. This year, the organization of the exhibition by the organizers was very well-coordinated, and the invited buyers were professional buyers from all over the country. Through the platform of the exhibition, we were able to maintain relationships with our existing customers and also establish connections with many new customers, providing us with more business opportunities for our future sales efforts. We would like to express our gratitude to the organizers and all the staff for their hard work! See you IGO 2024!

—— Qiang Wen, Brand Manager, Southern China Region, Yihai Kerry

We had a fruitful experience participating in IGO China this year. It was an important year for grain and oil companies to seize consumer growth and explore new markets. Through the platform of IGO China, our products were able to reach a larger target customers, showcasing the unique features and advantages, boosting customer confidence, and increasing opportunities for order transactions. We would like to express special thanks to the organizers of this exhibition.

—— Hezhi Yu, Representative of Mijiangyuan Camellia Oil Co., Ltd.
VIP Buyer Groups
Famous Chef Committee of China Cuisine Association
Guangdong Provincial Association of Grain Sector
GuangDong Food Circulate Association
Global e-commerce (Shenzhen) Co., Ltd.,
Hong Kong International of China Commerce Community Association
Guangdong East Chamber of Commerce of Importers & Exporters
Guangzhou Cuisine Association
China Guangzhou Western Food Association
Guangzhou Food Industry Association
Guangzhou Area Catering Trade Association
Shenzhen Food Industry Association
Shenzhen Cuisine Association
Shenzhen Catering Service Trade Association
Wengyuan County Agricultural Production and Processing Industry Association
Jiangmen Cuisine Association
Foshan Gaoming Dining Profession Association
GZPY Restaurant & Catering Association
Zhongshan City Catering Chamber of Commerce Sha Xi Gourmet Cultural Association
Dongguan Grain Association
Foshan Nanhai Catering Service Industry Association
Huizhou Food Industry Association
Shenzhen Food Industry Association
Guangzhou Food Industry Association
Shunde Restaurant Association
Yangjiang Cuisine Association
Yunfu Dietetic Association
Zhanjiang Cook Association
Zhuhai Restaurant Association
Heshan Dietetic Association
Qingyuan Cuisine Association
Caozhou Cuisine Association
Dongguan Lawei Industry Association
Shunde Dietetic Association
Huizhou Cuisine Association
Heyuan Cuisine Association
Guangdong Agriculture Industrialization Association
Guangning Food and Beverage Association
HongKong Cooking Association
Sihui Restaurant Association
Heshan Dining Industry Association
Guangdong Julonghui Catering Association
Zaoqing Cook Association
Luoding Catering Business Association
Guangning Cook Association
Huaiji Catering Association
Shaoguan Catering and Cuisine Association
Nanhai Food and Beverage Association
Shenzhen Food and Beverage Association
Xintan Food and Beverage Association
Emerging Food and Beverage Association
Shunde Longjiang Food Safety Association
Foshan Shunde Dietetic Association
Yangjiang Food and Beverage Industry Association
Food Tourism Promotion Association
Shunde Lunjiao Dietetic Association
Shunde Ronggui Restaurant Association
Le Liu Street Dietetic Association
Meizhou Dietetic Association
Le Cong Food Safety Association
Foshan Shunde Cook Association
Key Buyers
Distributors, agents, franchisees, grain and oil wholesalers, retailers, importers, food delivery companies, exclusive stores, aviation, railways, micro businesses, e-commerce platforms, traders who have strength, credibility, and sales networks, etc.
Invitations to industry associations such as China Catering Association, Food Industry Association, Agricultural Product Distribution Association, Chain Operation Association, Consumer Association, etc.
Star-rated hotels, various branded chain hotels, nightclubs, trading companies, food trade companies, food purchasers, Chinese restaurants, Western restaurants, fast food restaurants, distributors, chain stores, bars, community online stores, gift group purchases, liquor importers, large supermarkets, department stores, KA stores, convenience stores, etc.
Walmart, Carrefour, Hualian, MerryMart, Wumart, Century Mart, Jingkelong, Auchan, Metro, community stores, resorts, etc.
Retail industry, gift shops, executive chefs, and purchasing directors, important group purchasing units in universities and government institutions.
Premium consumer groups: industry elites, top executives, business elites, white-collar workers, senior management personnel, etc.
Financial investment institutions: various financial investment institutions, major banking systems, etc.
Free trade zones, direct sales centers for imported goods, bonded warehouses, convenience store chains, global premium products, cross-border e-commerce platforms, purchasing platforms, etc.
All media communication matrix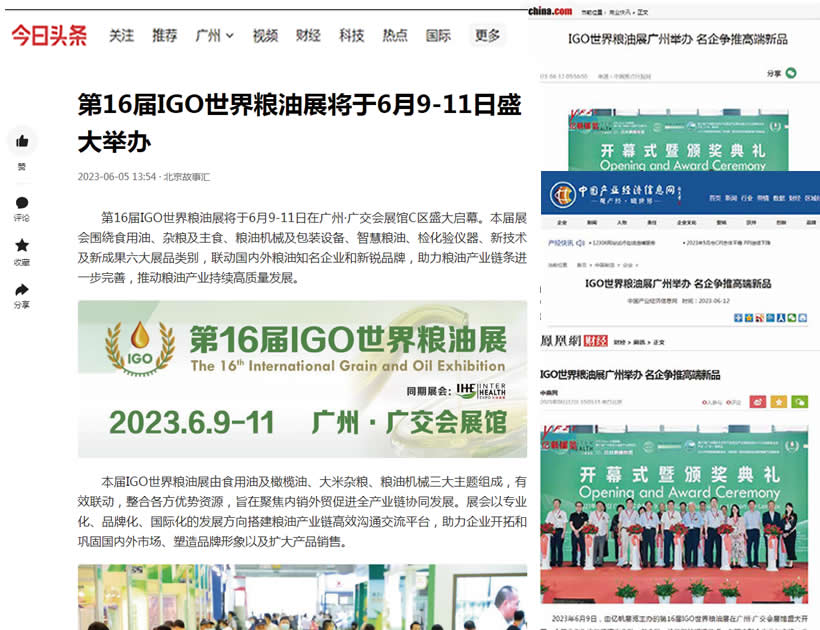 IGO International Grain and Oil Expo continuously innovates in content and communication methods, creating a buzz and providing high-frequency coverage throughout the year through the outreach to over 300 industry media worldwide. We timely share the latest highlights, trends, and key points of the IGO International Grain and Oil Expo, strengthening international communication through various measures, and fully showcasing the expo's strong capabilities. We are committed to expanding the global influence of the exhibition.
Concurrent Activities
Grain & Oil Award Ceremony

The Grain & Oil Award Ceremony aims to highlight the core values of brands and is committed to encouraging companies to create and innovate more high-quality brands and products. Over a hundred industry authorities, including members of the Chinese Academy of Engineering, influential leaders, experts, scholars, and representatives from enterprises, attended the awards ceremony. By recognizing outstanding brands, the ceremony effectively promotes the healthy, safe, and innovative development of the food, grain and oil industry.

Panjin Rice "Red Beach No.1" Promotion Conference

The Conference is organized by the Panjin Industrial and Commercial Federation and Panjin Agricultural Development Group Co., Ltd. It aims to promote the "Red Beach No.1" Panjin Rice to consumers nationwide. "Red Beach No.1" rice is a high-quality rice launched by the Panjin Municipal People's Government based on the principles of excellent variety, improved quality, brand building, value enhancement, and increased income for the people, following the concept of "seeds as the guide, resources as core, and key focus on branding". It represents a significant breakthrough in the field of rice.

High Oleic Acid Oil Quality and Nutrition Seminar

Oleic acid is a monounsaturated fatty acid, which can not only reduce LDL cholesterol and cardiovascular diseases, but also has better antioxidant stability than polyunsaturated fatty acids, so it is called "safe fatty acid". In recent years, the sales of various types of high oleic acid fats and oils in the oil and grease market have been increasing, which has attracted extensive attention from the industry. In order to further discuss the quality and nutritional value of high oleic fats and oils, a seminar was held at the exhibition site.
Exhibits Categories
Edible Oil
Peanut oil, rapeseed oil, soybean oil, corn oil, blended oil, palm oil, sunflower seed oil, olive oil, camellia oil, flaxseed oil, corn germ oil, peony seed oil, wheat germ oil, evening primrose oil, garlic oil, coconut oil, grape seed oil, wild camellia oil, etc.
Grains & Staple Food
Rice, seeds, branded rice, fortified rice, organic rice, sorghum, millet, noodles, panicum miliaceum, buckwheat, oats, barley, black wheat, organic grains, rice flour, organic rice flour, rice noodles, glutinous rice balls, rice cakes, rice bran oil, rice protein, and other processed rice products.
Grain & Oil Machinery and Packaging Equipment
Oil extraction equipment, pre-press machine, extraction and separation equipment, oil filter machine, softening pot, flanking mill, steaming and frying pot, puffing machine, oil pump, rice huller, rice milling machine, polishing machine, color sorter, sorting machine, drying machine, noodle production equipment, filling machine, bottle blowing machine, quality flow meter, electronic scale and coding machine, packaging assembly line, grain and oil metal packaging materials, plastic packaging materials, etc.
Smart Grain and Oil
Digitalization and intelligentization of grain and agriculture, online grain and oil marketplace, bidding trading, delivery warehouse services, influencer marketing, advanced grain and oil technology equipment, grain and oil information communication services, information management, financial services, agricultural IoT intelligent control technology, fully automated greenhouse controllers, irrigation district management information systems, water quality monitoring and early warning devices, automated control systems, solar irrigation systems, LED supplementary lighting and fixtures, control consoles, seedling racks, seed storage boxes, nutrient solution tanks, vertical planting racks, agricultural sightseeing, etc.
Test & Measurement Instruments
Moisture analyzer, visual inspection system, gluten analyzer, flour analyzer, viscosity tester, etc.
New Technologies,
New Achievements
Product patents, technology patents, new products, and recycling of oilseed residues after refining, etc.
Venue
China Import and Export Fair Complex · Pazhou · Guangzhou
Address:No.380, Yuejiang Middle Road, Haizhu District, Guangzhou.

The IGO International Grain and Oil Exhibition has been held in China Import and Export Fair Complex every year, Since the 7th exhibition in 2013.

Stand Prices & Facilities
Stand Type/Price

Raw space
USD 330/sqm

Facilities

Location close to the entrance/exit or main corridor.
Exhibitors bear the cost of booth construction.

Stand Type/Price

Premuim booth with one side open
USD 3,608/9sqm

Premuim booth with corner
USD 3,968/9sqm

Facilities

1 information counter
1 display cabinet
1 meeting table
4 chairs

1 dustbin
Carpet
4 or 6 spotlights
1 electric socket (220V and 500W)

Stand Type/Price

Premuim booth with three side open
US$ 7,936/18sqm

Premuim booth with corner
US$ 7,576/18sqm

Facilities

1 information counter
1 meeting table
4 chairs
1 dustbin

Carpet
4 or 6 spotlights
1 electric socket (220V and 500W)

Stand Type/Price

Scheme booth with one side open
US$ 2,500/9sqm

Standard booth with corner
US$ 2,750/9sqm

Facilities

1 information counter
2 chairs
2 fluorescent lamps

Carpet
1 dustbin
1 electric socket (220V and 500W)

*The actual facilities is subject to the exhibition contract
Sponsorship
Catalogue Advertisement
Front cover
USD 4,600
The second front cover
USD 2,000
The third front cover
USD 2,100
Inside color page
USD 1,000
Other Advertisement
Exhibitor badge(single page)
USD 5,000/per
Color printing
Visitor badge(single page)
USD 8,400/per
Color printing
Gift bag(single color printing)
USD 3,400/5THS
Total 30THS
Visiting Ticket Back Adv.(single page)
USD 850/10THS
Total 300THS
Visiting invitation letter(back cover)
USD 1,650/10THS
Total 50THS
Floor Sticker
USD 1,000/per
Visitors/Exhibitors Badge Rope Adv.(Logo Single Face)
Product Introduction Meeting
Exhibitors
USD 1,800/Session (30 mins)
Non–Exhibitors
USD 3,600/Session (30 mins)
Appoint hours should be charged
USD 1,000
(Please contact us for more information.)
Contact Us
Exhibiting Inquiry

Contact Person: Miss Wang
Tel:     86-20-8852 1856
E-mail: Info@ihe-china.com

Media Cooperation

Contact Person: Mr. Liang
Tel:     86-20-8758 1279
E-mail: marketing@ihe-china.com

Hotel Contact

Contact Person: Miss Huang
Tel:     86-20-8362 6659
MOB:  18620621268(Wechat number)

Visiting Inquiry

Contact Person: Miss Huang
Tel:     86-20-8362 6659
E-mail: visitors@ihe-china.com

Guangzhou Yi Fan Exhibition Co.,Ltd.

Tel:   86-20-8852 1856
Fax:  86-20-8852 7871
E-mail: Info@ihe-china.com
Address: Room 202, Yin Yan Building, No.25-27 Yan Ling Road, Tian He District, Guangzhou, China

Organizer Bank Account

Beneficiary: GZ Yi Fan Exhibition Co.,Ltd
Account NO.: 7367 7130 4842
Receiver Bank: Bank of China Guangzhou Guo Mao Da Sha Sub-branch
Bank Code (SWIFT BIC): BKCHCNBJ400
Bank Address: No.1, Linhe West Road, Guangzhou.